China 's well-known trademark
ZZ Industrial (shanghai) Co.,Ltd.is a family enterprise that integrated research, development, design, manufacture and trade. ZZ Group factory was established in 1998 October. The factory already has twenty years experience and history. During these years, the company is committed to development and production for fire resistant plastic corrugated soft tube and plastic soft tube. The main products are over 10 kinds of various specs of plastic soft tube, and can customize colors, diameters and thickness according to customer's request.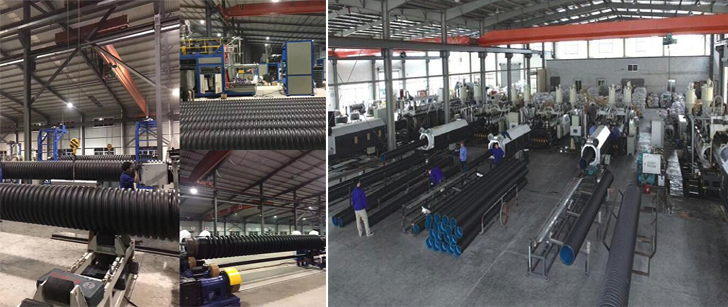 Thanks for your trust and support to ZZ Industrial (shanghai) Co.,Ltd. Here is the proposal according to your request, pls. Kindly review. We sincerely wish can provide you perfect machine and services.!

ZZ Industrial (shanghai) Co.,Ltd
Why Choose Linker Tube?
Sales: Paul
Customized Solutions
Mobile: +86 13167029626
More Than 60 Years of Experience
E-mail: info@pvccorrugatedpipe.com
We have acquired in-depth industrial knowledge
Tel: +86-21-51061761
Skilled Manpower With Adequate Production Facilities
Add:83# North Hongxiang Rd, Songjiang, Shanghai,China
Follow International Standards of Operation & Production
Excellent Customer Support Services 24x7
MATERIAL :
This pipes are made of High Density Poly Ethylene Polymers. The DWC pipes shall consist of two layers, the outer layer will be corrugated and the inner layer shall be plain & smooth.
PRODUCT RANGE :
This pipes are available in sizes 50 mm to 200 mm.
APPLICATIONS :
A. Telecom Application :
Used as the main duct in sub duct network design.
Protection of ducts and optical fibre cables in city networks.
Protection of ducts / cables in rail & rail crossings.
Protection of ducts / cables across rivers disused canals etc.
Used as casing of copper cables.
B. Electrical Applications :
In the electrical networks, protective casing of street lighting cables-pole to pole application. DWC Pipe helps in: Easy laying of cable upon completion of civil works, easy maintenance of cables as free to move inside the duct, easy to replace the cables.
In city distribution network protective casing application of power cables can be possible only after using DWC pipes. It is excellent and cost effective alternative of GI, RCC & PVC Pipes. It can be openly used for protective casing of street light cable as well as telecom cable.
FEATURES / PROPERTIES :
Resistance to chemical: Exceptional resistance to all internal & external corrosion.
Will not rust or rot.
Resistance to electrolytic corrosion.
Easy to install.
Longer life than GI, MS & RCC.
Flexible, can be bent to a radius as low as 10 x OD of the duct.
Very good thermal insulation due to low thermal conductivity.
Light weight product for easy transportation, handling and fitting etc.
Possibility of laying of additional ducts due to aligned joints, continuous length and smooth bends.
Good mechanical properties and ability to take heavy loads.
Anti rodent.
STANDARDS :
Our pipes is BIS certified and is manufactured in compliance with the relevant international and national standards like IS: 14930 and BS EN 50086. Also conforms to BSNL TEC GR No. GR/DWC-34/01 Sep. 2007.
HDPE pipes and HDPE fittings are high density polyethylene produced from raw material municipal, industrial, Maritime issues, mining, storage, channel, and agricultural practices such as the large solution in the range are used. HDPE pipe is strong, durable, flexible and lightweight. Unique features and cost in terms of concrete, steel, Pvc pipe, HDPE pipes and HDPE fittings are the best options according to application.
Drinking water, compressed gas systems, sewage pipe systems, irrigation and landscaping pipes , telekominasyon pipes , storage , channel, which most widely used in the field of Agriculture and pipes high density polyethylene pipes, corrosion, abrasion and chemical resistance to a high resistance.
Other raw materials in their field according to the types of high performance and affordability, as well as long-lasting product which is the most preferred polyethylene pipe due to resistance to a life of minimum 50 years, 100 th of 20 ° C flow temperature is valid.
DOUBLE-WALL CORRUGATED UNDERGROUND CABLE PROTECTION PIPE

HDPE CABLE PIPES Corrugated Outside Smooth Inside

NOMINAL

OUTSIDE

STANDARD

DIAMETER

DIAMETER

LENGHTS

100mm

118mm

6M/12M/50M

150mm

174mm

6M/12M/30M

200mm

235mm

6M/12M/30M

SINGLE-WALL CORRUGATED UNDERGROUND CABLE PROTECTION PIPE

HDPE CABLE PIPES Single Wall
Cable Pipe

NOMINAL

OUTSIDE

STANDARD

DIAMETER

DIAMETER

LENGHTS

100mm

118mm

6M/12M/50M

150mm

174mm

6M/12M/30M

200mm

235mm

6M/12M/30M

STANDARD PIPE FITTINGS

NOMINAL DIAMETER

DOUBLE-END SOCKET

BEND 45* OR 90*

TEE JUNCTION

100mm
150mm
200mm