China 's well-known trademark
ZZ Industrial (shanghai) Co.,Ltd.is a family enterprise that integrated research, development, design, manufacture and trade. ZZ Group factory was established in 1998 October. The factory already has twenty years experience and history. During these years, the company is committed to development and production for fire resistant plastic corrugated soft tube and plastic soft tube. The main products are over 10 kinds of various specs of plastic soft tube, and can customize colors, diameters and thickness according to customer's request.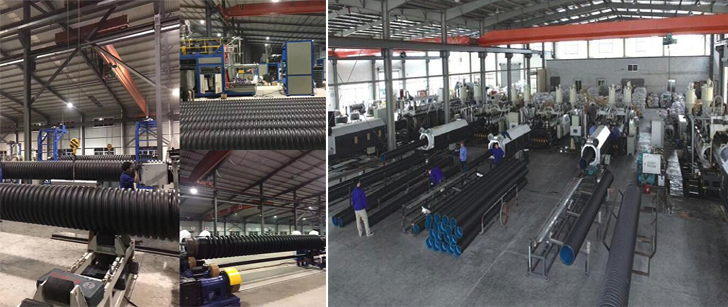 Thanks for your trust and support to ZZ Industrial (shanghai) Co.,Ltd. Here is the proposal according to your request, pls. Kindly review. We sincerely wish can provide you perfect machine and services.!

ZZ Industrial (shanghai) Co.,Ltd
Why Choose Linker Tube?
Sales: Paul
Customized Solutions
Mobile: +86 13167029626
More Than 60 Years of Experience
E-mail: info@pvccorrugatedpipe.com
We have acquired in-depth industrial knowledge
Tel: +86-21-51061761
Skilled Manpower With Adequate Production Facilities
Add:83# North Hongxiang Rd, Songjiang, Shanghai,China
Follow International Standards of Operation & Production
Excellent Customer Support Services 24x7
Description:
Cross-linked polyethylene pipe has a very good health due to comprehensive mechanical and physical properties, is considered a new generation of green pipe. Production of cross-linked polyethylene pipe (PEX) is the main raw material HDPE, as well as the initiator, crosslinking agent, catalyst and other additives, using the world's advanced one-step (MONSOIL France) technology, using ordinary polyethylene materials by adding silane access sticks material, in the polymer molecule chains to form a chemical covalent bond to replace the original van der Waals forces to form the three-dimensional network structure of the text-chain cross-linked polyethylene, the crosslinking degree of up to 60% -89%, so that of its excellent physical and chemical properties.
cross-linked polyethylene pipe of the main features:
Use a wide temperature range,-70 ℃-95 ℃in the next long-term use;
texture, firm and patient pressure resistant high strength,20 ℃when the burst pressure is greater than 5Mpa,95 ℃when the burst pressure is greater than 2Mpa,95 ℃under 50 years service life;
does not rust resistance, good chemical resistance, excellent resistance to environmental stress cracking, even in the more out of temperature can also be used to transport a variety of chemicals and stress cracking of accelerating a variety of fluid pipe;
Pipe wall tension is low, so that the higher the surface tension of water infiltration is difficult wall, you can effectively prevent scale formation.
non-toxic, non-mildew, do not breed bacteria, public health in line with the national standard GB7219-1998 'drinking water distribution equipment and protective materials, safety evaluation standard' provisions of indicators;
pipe inner wall is smooth, fluid flow resistance is small, excellent mechanical properties of the water in the same diameter, the transmission fluid flow than metal pipe large, low noise;
pipe thermal conductivity much lower than the metal pipe, so its excellent insulation properties of insulation for the heating system, without insulation, heat loss is small;
good memory performance, when the PEX pipe is heated to the proper temperature (less than180 ℃) will become transparent and shaped, and then cooling will be restored to its original shape, that is, any error in the course of the bending are can be corrected through the hot air gun, to use more freely;
light weight, easy handling, easy installation easy, non-professionals can also be successfully installed, install the workload of less than half the amount of metal pipe installation;
Cross-linked polyethylene pipe of the linear expansion coefficient of metal pipe to a large and more space for installation should be left flexible.
cross-linked polyethylene pipe main application areas:
Building hot and cold water and drinking water plumbing systems;
Food Industry in the liquid food pipeline;
plumbing heating system, central air-conditioning piping systems, ground radiation; heating systems, solar water heater system, etc.;
telecommunications, electrical use with tube;
plating, petrochemical and other industrial piping system.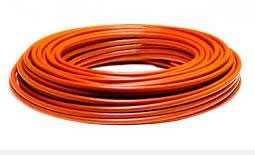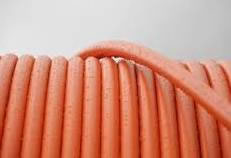 Advantages of Flexible PVC conduit Pipe:
1. The flexible pipes have extremely good waterproof, insulating and pull resistance.
2. The thickened surface is made of PVC. Fire retardant was added to the PVC plastic.
3. The structure is buckle structure, which enhances the pull resistance and is not liable to crack or deform.
4. Extremely soft with food bending performance. The inner smoothness makes the entry of wires very easy.
Application of Flexible PVC conduit Pipe:
PVC conduit serves two primary industries: communications (telephone, CATV, data transmission) and electrical (power transmission).In the communications industry, the advent of fiber optic cable has had a tremendous impact due to its significantly higher data-carrying capacity, particularly due to the explosion of the Internet. In telecommunications service (phone, data transmission), fiber optic cable is used, along with traditional copper cable. In cable television service (CATV), fiber optic is also growing rapidly in addition to (or replacing) coaxial cable. This progression toward fiber optic cable has made the need for protection more critical, since these materials are highly sensitive to moisture and mechanical stress. Damage can be very expensive in terms of interrupted service and replacement costs. Also, these cables are installed in very long, continuous runs which require a clear, protected pathway, as well as a leak-free system for air-assisted ("blow-in") installations. In addition to fiber optic, coaxial cables have seen improvements to increase bandwidth, making these materials more mechanically sensitive.
In the electrical industry, a critical requirement is on maintaining uninterrupted service, as consumers and businesses are even less tolerant of power outages than they are of phone or CATV service interruptions. Although many direct-buried power cable systems are designed for 30- or 40-year lifetimes, they are susceptible to external influences like rock impingement and often require frequent repairs. Conduit is finding favor over direct burial in these applications due to improved protection, but it must be continuous and facilitate quick repair operations.PVC conduit is used to carry both primary (substation to transformer) and secondary (transformer to end-user) cables. Some of these installations also contain fiber optic cables placed alongside the power cables to connect with load-monitoring sensors located throughout the network.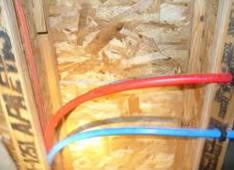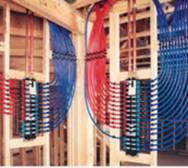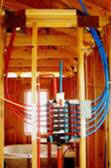 Colors of Flexible PVC conduit Pipe:
Colors can customize according to customer's request.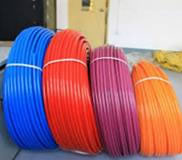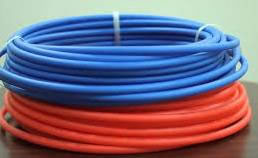 Package, payment term and lead time:
Package:
customized; normal packing is : each roll with shrinking film surrounded/ or with non-woven bag packing, one roll one shipping carton with customized marks;
Payment terms:
T/T (mainly), PayPal,Western Union
FOB port:
Shanghai
Lead-time:
15-20 working days depending on order quantity.
FAQ:
Q: What kind of materail you can offer?
A: We can offer you PVC/PE/PP/PA.
Q: What kind of standard you are following?
A: We are producing following by RoHS, CE, UL and GB/T 14828.4-1993
Q: Could you change the size for the customer?
A: Yes, we do for some customer special size.
Q: How many days delivery the order?
A: Normally after deposit or L/C 20 days, depends on your request.
Q: What about the payment?
A: We can accept L/C, T/T and trusted payment methods.
More question please by email, our service is solving your problem.